Today we went on a boat trip, we took a flask, some crisps and some fondant fancies. Maisie and I both took some wool and needles/hooks with us but we did none of that stuff. Can you see the size of the needles they provided on the boat? Actually it's the mast but it looked like a needle to us girls! I love that first photo of Maisie, it was Barry's idea to add a bit of fill in flash to the shot and it made all the difference. So glad I found a photographer to share my life with, he knows his stuff!
this last shot was such a precious moment I noticed on the river bank as we chugged past...look at the daisies in his hair, young love, it's so beautiful. I just wish I had dared to take more photos but the girl noticed and I got a bit worried to take more.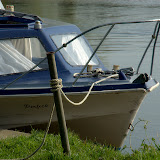 If you click the photo below you can see all the photos from today....check out the name of our boat, kewl or what?
Perfick
We all relaxed and had a great time....
Barry and Maisie made some honeycomb or cinder toffee when we got back, it was/is yummy! I was going to make this cake clicky but my sinuses are so painful that I just had a sleep and a play on here.
I am getting better, very slowly but I think I need to get some antibiotics which, if they don't suit me, make me worse by giving me some revolting side effects, what to do, what to do!!!???